JT4 receives recognition from defense, marketing, and academic communities
The Corporate trophy case in the east lobby of JT4's Pilot Road facility in Las Vegas is starting to get crowded. A nod to some of JT4's most noteworthy achievements in the community dating back as far as the late JT3 days, the glass display case has had to make room for three new awards in the span of just six months. These tokens of recognition highlight JT4's values and expertise across different sectors of industry and the community.
Military/Defense
On August 12, 2022, JT4 received the highest recognition given by the U.S. Government to employers for outstanding support of their employees who are serving in the U.S. National Guard and Reserve—the prestigious Secretary of Defense Employer Support Freedom Award. Employer nominees must advance through numerous rounds of selection and are ultimately reviewed by a national finalist board comprised of senior Department of Defense officials. The selection committee may recommend up to 15 recipients to the Secretary of Defense. Although JT4 is proud to support Reserve and Guard members while in training and during deployment by shifting schedules and work responsibilities to meet service requirements, the company is even prouder of its incredible employees—these great Americans who voluntarily sacrifice time away from their jobs and families to support and defend our nation.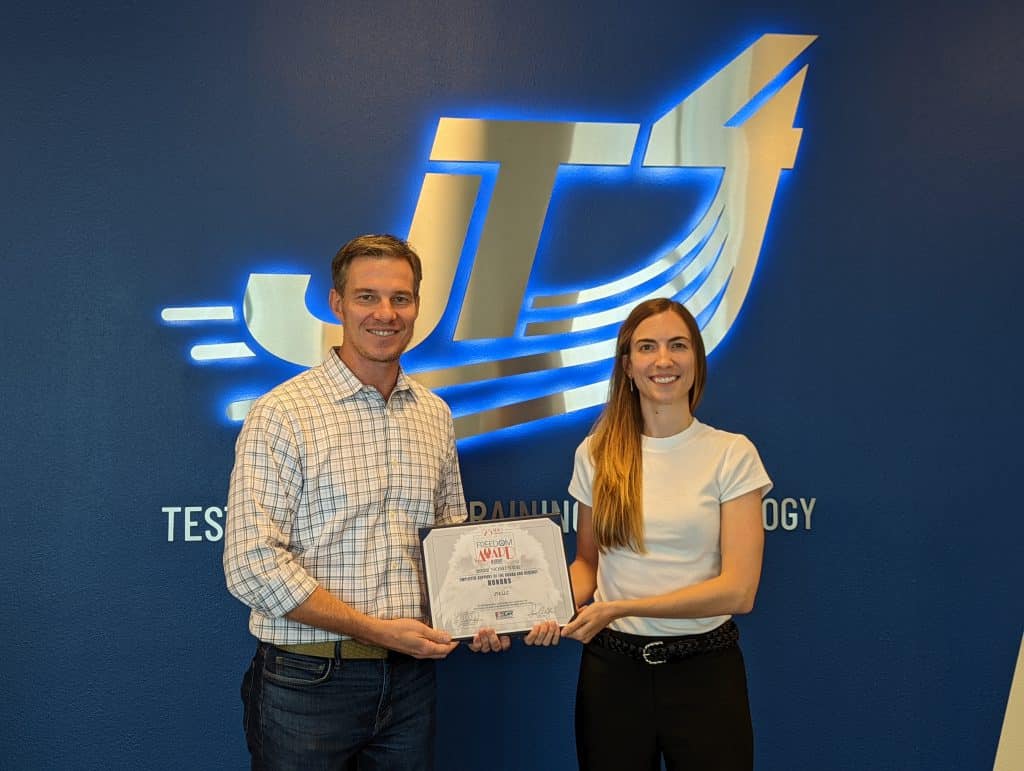 Pubic Relations/Marketing
On November 15, 2022, representative from JT4 had the honor of attending the 2022 Pinnacle Awards Ceremony, hosted by the Public Relations Society of America (PRSA) Las Vegas Valley Chapter. The Pinnacle Awards recognize the best public relations programs, tools, and professionals in Southern Nevada, Northwest Arizona, and Southern Utah. Nominees for the awards are judged by out-of-state accredited members of the PRSA. These seasoned communications and marketing professionals recognized JT4 with several awards, the most noteworthy being an Award of Excellence for JT4's brand refresh, an almost three year initiative that resulted in the replacement of all JT4 marketing collateral including the JT4 website. JT4 also received Awards of Excellence for a promotional video and a single-issue publication, as well as an Award of Merit for the Inside JT4 newsletter.
Education/Academia
On February 23, 2023, JT4 was awarded the Distinguished Engineering Industry Partner award by the Howard R. Hughes College of Engineering's Academy of Engineering at the University of Nevada, Las Vegas (UNLV). JT4 has been a longtime supporter of UNLV's College of Engineering and its commitment to the college is both in word and deed. JT4 collaborates with the college on curriculum, provides letters of support for grant applications aimed at improving educational outcomes for underrepresented students, and participates in numerous advisory boards to provide crucial insights into industry needs. Furthermore, JT4 regularly sponsors recognition opportunities for talented students and was the first donor to pledge to a milestone fundraising goal for the college's new Advanced Engineering Building. JT4 was applauded for such activities and the company looks forward to continued collaboration with the College of Engineering to help shape the face of STEM education in Southern Nevada.