JT4 provides communication, engineering, maintenance, logistics, operations and administrative support at the Nevada Test and Training Range (NTTR). The NTTR delivers a real-world environment for air, ground, and cyber-based military activities, including pilot and crew training, combat exercises, and testing of new manned and unmanned aircraft and weapons systems. The NTTR develops full-spectrum capabilities through responsive, realistic and relevant U.S. Air Force and joint-service testing, tactics development and advanced training across all levels of war.
JT4's mission at NTTR is to provide quality test and training and support to DoD agencies such as the U.S. Air Force, Army and Navy in mimicking threats and conditions our forces may face during conflicts throughout the world in defense of our country. This effort requires dedicated professional skills and expertise throughout our expansive workforce. As the technical services support contractor for the NTTR, we are dedicated to providing the best value in services to our customer. It is our charter to seek out, develop and integrate state-of-the-art technology solutions to address our customer's diverse needs in the areas of cost and performance.
The NTTR, headquartered at Nellis AFB near North Las Vegas, Nevada, encompasses America's largest and most sophisticated range battlespace for testing and training of U.S. military and coalition forces. The range is designated as a Major Range and Test Facility Base, and it occupies 2.9 million acres of ground space and approximately 7,000 square miles of Military Operating Area airspace, some of which is shared with civilian aircraft, while 5,000 square miles is solely dedicated to military operations. The NTTR is larger than the state of Delaware and Rhode Island combined by almost 400,000 acres. JT4 employees supporting the NTTR may be stationed in various locations. Employees, who do not live in the nearest cities to their location, travel to these remote sites on a regular basis.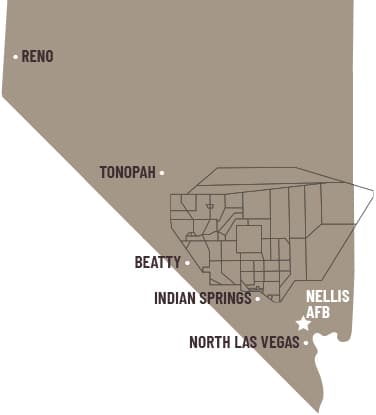 JT4 Range Management Office
North Las Vegas, NV
Our range management office is located approximately four miles from Nellis AFB. There are a number of contract support functional areas based at this location including engineering, quality assurance, safety, security, data management and logistics.
Nellis Air Force Base
North Las Vegas, NV
Our Nellis team consists of trained professionals with a wide variety of technical skill sets and system-specific expertise. Our departments located at Nellis include range monitoring, range operations, combat training systems, Geographic Information System (GIS) support, NTTR scheduling, project management and audio visual.
Point Bravo Electronic Combat Range (PBECR)
near Indian Springs, NV
Our team of technicians support a wide variety of systems and capabilities, many of which are unique to PBECR. In addition to threat operations and maintenance conducted throughout the ranges, PBECR operators and technicians provide support for systems such as the Television Ordnance Scoring System (TOSS) to score weapons impacts on static targets and High-Speed Moving Targets (HSMT) to score weapons impacts on moving vehicles, both of which are exclusive to PBECR.
Tonopah Electronic Combat Range (TECR)
near Tonopah, NV
Technicians at TECR primarily operate and maintain ground-to-air threat simulators, mission disruption systems and an expansive data, video and voice communications network. We have a vast array of threat simulators including, manned sites, unmanned systems and mobile systems. Additionally, technicians support a variety of denial-of-service and early detection systems.
Tolicha Peak Electronic Combat Range (TPECR)
near Beatty, NV
Much like TECR, our TPECR technicians operate and maintain a wide variety of threat simulators, disruption systems and communications networks. These systems are based on technology from as far back as the 1970s, as well current systems that simulate the real-world threats that aircrews will encounter in combat.
The primary focus of our support is pilot training by providing an adversary's represented air defense system, commonly referred to as an Integrated Air Defense System (IADS). This representation puts all anti-aircraft sensors (radar, visual observers, etc.) as well as anti-aircraft weapons (SAMs, Anti-Aircraft Artillery [AAA], interceptors, etc.) under a common command and control (C2). Depending on the national doctrine, the control of assets can be more or less centralized. Centralized control gives less flexibility to the aircrews and threat radar sites. The Simulated Integrated Air Defense System (SIADS) is how we employ training at NTTR. Our primary system for managing and controlling this simulated environment is a Digital Integrated Air Defense System (DIADS), which is a program that interfaces with most of the simulators that are located at various range locations and additionally can integrate constructed or virtual simulators.
A message from the range manager
Platforms and exercises supported
JT4 supports various missions throughout the year, totaling (on average) more than 350 missions per month.  These include various joint exercises like Neptune Falcon, as well as a number of highly sophisticated training exercises that simulate battlefield situations. JT4 personnel provide support from the initial planning stages of an exercise through scheduling, mission execution and the final debriefing.
While the vast majority of JT4 employees who support the NTTR live in Las Vegas, Nevada, the Nevada Test and Training Range encompasses an area so vast, that employees supporting the NTTR may choose to live in one of numerous other cities around its periphery.
Indian Springs, Nevada, is a small town in the northwest part of Clark County located near Creech AFB, home to an active Remotely Piloted Aircraft operation. The USAF Aerial Demonstration Team, better known as the Thunderbirds, routinely practices in the skies above Indian Springs, giving residents an impromptu air show on a regular basis.
Beatty, Nevada, is a small town located along the Amargosa River in Nye County. Beatty is known as the gateway to Death Valley National Park, one of the hottest places on Earth, and is only five miles from the park's entrance.
Tonopah, Nevada is a small town in Nye County that is located approximately halfway between Las Vegas and Reno, Nevada. Tonopah has been noted as one of the best places in the country for star gazing.
The ability for the Air Force to defeat adversaries requires a threat-representative training environment that include Surface-to-Air Missile (SAM) systems, Anti-Aircraft Artillery, Radar and Communications Jammers and various active and passive detection systems. Our support in creating that environment will continue to evolve with new technology, tactics and techniques. JT4 manages dozens of projects that invest in the development and deployment of capabilities necessary to provide the threat-representative environment of the future.
We work closely with our customer to update current systems and bring new systems to bear that are representative of what the Warfighter will be faced with in combat. The future advanced threat simulators are high-fidelity systems used to ensure aircraft detection ranges as well as signal levels are comparable to real-world adversary threats. This technology will properly support the airborne radar warning receivers and jamming equipment's realistic reaction to the signals.

A realistic training environment must address mobility. The ability for a system to shoot on the move is critical to simulate modern battlefield environments. All newly developed simulators must consider this capability as a requirement for operations, whenever possible. An additional approach to providing a pseudo-mobile environment is to deploy multiple systems of the same threat, space them at logical intervals and switch the target engagements between the systems during a mission.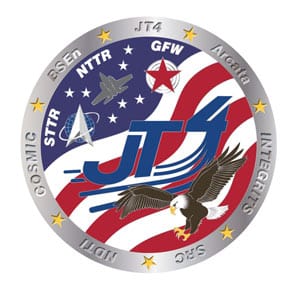 Location:
4228 Arcata Way
North Las Vegas, NV
89030
Mailing Address:
4228 Arcata Way
North Las Vegas, NV
89030
Phone: 702.399.9966
Fax: 702.399.9970