Residing at the National Training Center, Fort Irwin, the 12th Combat Training Squadron (Ravens) works in conjunction with the NTC Operations Group, 916th Support Brigade and the 11th Armored Cavalry Regiment to create realistic combat scenarios, preparing soldiers for eventual deployment where they will fight in large-scale combat missions.
Throughout the year, JT4 operates and maintains equipment systems used to support these training exercises. In the field, we manage twelve communications sites equipped with radios and remote interrogation units, which are used to track airborne and ground-based participants. Our transport network provides various sources of time-space-position information (TSPI) for accurate position referencing of the participants. All sources converge in operational areas where our display and debriefing network resides, creating a picture of the battlespace. When combined with the audio from air-to-ground radio transmissions to ground forces in the field, the battlespace picture becomes clear to mission monitors. On a post-mission basis, system recordings are used to support debriefings, which allow for the assessment of effectiveness and discussions for improving performance.
Approximately ten times each year, segments of the United States Army and Air Force come together as part of the joint exercise known as Green Flag. Within the boundaries of the National Training Center (NTC) at Fort Irwin, soldiers, airmen and troops gather to plan, practice and train across the 1,000 square miles of desert terrain––all to prepare for eventual real-world deployment where they will fight in large-scale combat missions.
Combining airborne assets with the forces on the ground, scenarios throughout the exercise range from close air support to combat search and rescue. Joint Terminal Attack Controllers (JTACs), or service members who are qualified to make communications with aircraft and direct fires, hone their skills on providing direction to those called in for support.
Soldiers on the ground will at some point likely find themselves in the midst of the "Urban Complex", a group of cities within NTC that emulate the environment of a foreign country. Attempting to replicate all aspects of a region elsewhere in the world, the cities are equipped with structures imitating vendors, hotels, local police and government. Filled with actors and props depicting the local culture, soldiers may experience encounters with individuals portraying anyone from civilian residents to hostile insurgents. This provides training for meeting military objectives while in unfamiliar, unpredictable surroundings. At times, all four branches of the military take part in the Green Flag exercise to promote integration between pilots and soldiers. The overall philosophy is to train like you fight.
In direct support of the 549th Combat Training Squadron (Warbats), JT4 operates and maintains the complementary half of the Green Flag display and debriefing network used for the same combat training scenarios. By receiving exercise data from the NTC Fort Irwin system infrastructure, the Nellis team supports the same real-time and post-mission events.
Because the airborne participants originate from the Nellis AFB flight line, JT4 employees prepare for flights by creating aircraft mission files and display overlays and testing communications plans. During each training mission, the JT4 team oversees system activity and validates the quality and accuracy of the data and network performance. Similar to the Fort Irwin operation, the display and debriefing system at Nellis produces a battlespace atmosphere for monitors and controllers that is live and in the moment. Replays support debriefings, which allow for the essential lessons learned that help prepare participants for the future.
JT4 employees supporting GFW are based at Fort Irwin and Nellis Air Force Base. Our personnel participate in trips to remote communications infrastructure locations in order to perform maintenance, and they spend the remainder of their time in facilities such as the Operations Command and Control Center or the Division Tactical Operations Center.
Fort Irwin resides in an isolated area, surrounded by the hills and mountains of the High Mohave Desert. It covers over 1,000 square miles of land and boasts an uncluttered electromagnetic spectrum and restricted airspace.

A message from the range manager
Platforms and exercises supported
Ten Green Flag exercises per year keep our JT4 employees extremely busy. Each instance of the Green Flag exercise lasts for two weeks, but typically an additional week of preparation is required of our team and the exercise players. During this week, participants are familiarized with the various mission scenarios and our team ensures all equipment is fully operational and properly maintained for use.
JT4 also supports air operations in support of Maritime Warfare events at the National Training Center. These training exercises are joint air operations designed to rehearse and perfect the capability to neutralize threats in a maritime territory. In between the various exercises, our employees are performing preventive maintenance actions, training and property management throughout the year.
Fort Irwin is located 37 miles northeast of Barstow, California, which is where many JT4 employees who support GFW choose to live. This small town in the High Desert is just the place for quiet living. As the midway point between two major cities, there are many options for adding excitement to the weekends.
There are over a half dozen theme parks located within 100 miles of Barstow that offer thrilling and family rides, shows and other attractions to complete the ultimate day out. Disneyland, Knotts Berry Farm, and Six Flags Magic Mountain are just a few of the many possibilities.
Barstow is a key transportation hub. Several major highways converge at its center and lead to many sought-after destinations, including Las Vegas, Los Angeles and San Diego. All three major cities are within a 200-mile radius.
Barstow is surrounded by several natural and historical wonders. The multi-colored rock formations of the Rainbow Basin and the silver rush era mining destination known as the Calico Ghost Town attract photographers, hikers, campers and history enthusiasts.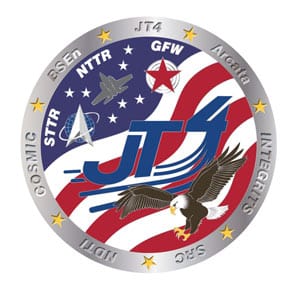 Location:
4228 Arcata Way
North Las Vegas, NV
89030
Mailing Address:
4228 Arcata Way
North Las Vegas, NV
89030
Phone: 702.399.9966
Fax: 702.399.9970